Inquiries & Contact Information
The quickest way to inquire or make a reservation is to email us directly. To make a reservation please include:

​- Name
- Number of people in your party
- Billing Address
- Phone Number
- Name of the cottage you would like to reserve
- Dates you would like to stay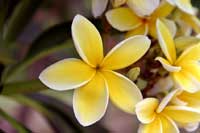 ---
About the owners
Otto and Wendy were born in California and relocated to Hana over 30 years ago when they decided to start a family. They are now the proud parents of two young girls who grew up in beautiful Hana, Maui.

They started a construction business which has become well respected throughout the community. They are well known for the quality of their work as well as their warm personalities.

After completely remodeling two of their cottages and transforming them into secluded island vacation rentals their services are now directed towards you, their guests. Through friends and extended family in Hana, Otto and Wendy are happy to help you find whatever experience you might be looking for.

By helping create a relaxing and enjoyable stay for you in Hana, they are constantly reminded of how lucky they are to live in this true paradise.



---